YKK & YKK AP FACADE HISTORY
1934  San-S Shokai founded by Tadao Yoshida in Nihonbashi, Tokyo; the production and sale of fastening products begins.
1957  Established Yoshida Shoji Co., Ltd. (present YKK AP Inc.).
1976  YKK Industries (Singapore) Pte. Ltd. established as the first overseas affiliate of YKK's architectural products business. Pioneer in supplying aluminium windows and doors in Singapore, in particular the Housing and Development Board (HDB) market.
1998 Renamed to YKK Architectural Products (Singapore) Pte. Ltd.
2002 Renamed to YKK AP SINGAPORE PTE. LTD till this date.
2008  Established YKK AP FACADE Pte. Ltd.; facade engineering business unit. To drive YKK AP into a highly technical engineering company in the architectural products division.
2018  Alongside with its Regional Companies, successfully completed several prominent facade contracts.
1934

Founded in Kakigara-cho, Nihonbashi, Japan

1957

Yoshida Shoji Co., Ltd. (present, YKK AP Inc.) Establish for building Architectural Products

1976

First YKK AP's overseas company YKK Industries (Singapore) Pte. Ltd.

2008

YKK AP FACADE PTE. LTD. Establish Facade Engineering Business Unit in Singapore

2018

YKK AP FACADE continues to challenge Facade Engineering Contracts

Organization Chart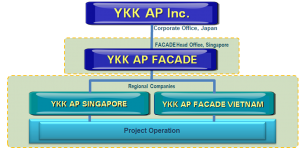 About Us
Environmental technologies for high-rise buildings, particularly complex curtain wall systems, are becoming increasingly necessary. YKK AP Inc., Japan has a specific task group dedicated to responding to these requirements.
YKK AP FACADE is the head office for the Facade Design and Engineering Division of the YKK AP brand. It aims to improve facade engineering, utilizing Green Facade Technology and Sustainability. YKK AP FACADE has gained substantial experience in the harsh environment and climate conditions of Japan. This has provided an advantage with regards to enhancing environmental technologies.
The accomplishments of both the Research and Development Division, and the Machinery and Engineering Division, of YKK AP Inc. Japan, are a significant asset to YKK AP FACADE. These Divisions are continuously launching initiatives and exploring ideas to improve material science and engineering development.
YKK AP FACADE is manned by a dedicated team of design, engineering & management professionals. The head office, based in Singapore, controls management policy and business development, including design engineering and global procurement. There are 2 regional offices currently undertaking contracts and operations. These offices are; YKK AP SINGAPORE Pte Ltd. and YKK AP FACADE VIETNAM. The regional offices provide experienced project management and construction personnel assigned to undertake and manage a specific facade project.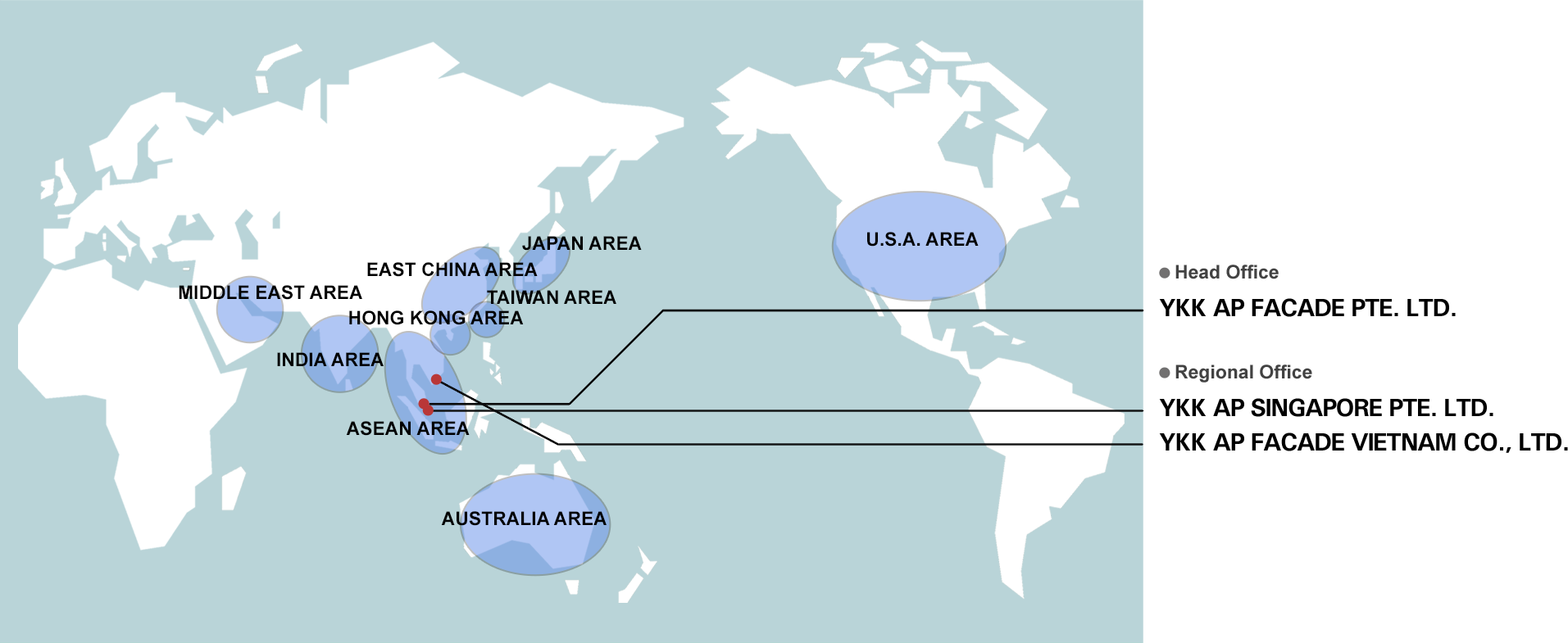 Vision
To be a company that
comes into stakeholders' minds
when they face a new challenge.

Mission
We strive for quality.
We provide practical solutions.
We respect teamwork.
We have a positive mindset.
We learn from mistakes.
We stay committed to our work.

philosophy
CYCLE OF GOODNESS




"No one prospers without rendering benefit to others."


An enterprise is an important member of society, and as such, it must coexist with other elements of society. Its value will be recognized by the benefits it shares with society.
YKK GROUP ACTVITIES
Global Management
Plus Three Business
Groups
The YKK Group management structure is global. Manufacturing is done by the Fastening Products and Architectural Products Business Groups, with support provided by the Machinery and Engineering Group. Worldwide sales, marketing, and customer services are handled by our six geographical block organizations.
The Fastening Products Group meets continually changing market needs with three product business divisions – the Slide Fastener Division, the Textile and Plastic Products Division, and the Snap Fastener and Button Division. In recent years, the world textile and apparel industries have seen considerable diversification in consumer needs, shorter product life cycles, and demands for faster, lower-cost production.
In order to react quickly to these changes, we divided our global business into six geographical blocks, thereby enabling YKK to further contribute to our clients' globalization efforts. Furthermore, YKK Fastening Products Sales Inc. considers Japan and the rest of Asia a single market, and works toward more accurate product development and faster customer service.
ARCHITECTURAL
PRODUCTS
GROUP
The Architectural Products Business Group manufactures YKK AP brand products, and does business in Japan and Asia, as well as in the United States. Our production system features products developed to precisely meet market needs, ensure manufacturing to consistent standards, and delivers a level of quality trusted around the world.
The YKK AP brand aims to increase the value of buildings by providing entrance and window systems that are unique, offer quality and diversity, based on the wide-ranging know-how accumulated from major projects around the world. Our customers know they can rely on YKK AP for top-quality manufacturing, precision installment, and dependable after-sales service.
MACHINERY &
ENGINEERING
GROUP
The technology and engineering capabilities of the Machinery and Engineering Group sustain and reinforce the competitiveness of our Fastening Products and Architectural Products Business Groups.
As the cornerstone of the YKK Group's technology development, the Machinery and Engineering Group supplies proprietary production machinery and equipment, systems, and components to the Manufactoring Plants of Group Companies worldwide.
The YKK Group is a continuously expanding business with a Six-Region Global Structure. The Group currently does business in about 73 countries worldwide. Its geographical management structure is divided into six blocks – 1) North and Central America; 2) South America; 3) Europe, the Middle East, and Africa (EMEA); 4) China ; 5) Asia; and 6) Japan.
This regional approach enables us to easily adapt to the characteristics of each region and further expand our businesses.