With more buildings coming-of-age, there is a need to increase the serviceability and function of these buildings, while the building structure remains stable & practical. More building owners are opting for retrofitting to their existing building. This is especially relevant to the facade, which eventually enhances the image and property value of the existing building.
More importantly, a right facade re-skin system could significantly improve the energy saving characteristics of the building, based on the careful selection of the materials infill and the complete system as a whole.
With its global technical know-how and engineering expertise, YKK AP FACADE has a specialized team of designers and project personnel with vast experienced in facade retrofitting contracts. Several large-scale building facade retrofit contracts have been completed successfully in Singapore and Japan. Recent projects like the Centennial Tower, OUE Downtown Tower 1; all have had their facade retrofitted using YKK AP technology. One of this technology has been acknowledged by the Building and Construction Authority of Singapore (BCA). In 2006, the Construction 21 Best Practice Award was awarded to YKK AP SINGAPORE for its successful application of an innovative Top-Down Construction Method introduced for the High Street Centre retrofitting project.
A facade re-skin contract is more challenging then a new building facade. YKK AP FACADE has a specialized means of handling such challenging works, which ensures the safety and security of both the building tenants & the constructional workers required on the retrofit contract.
High Street Centre Retrofitting
Before                                                           After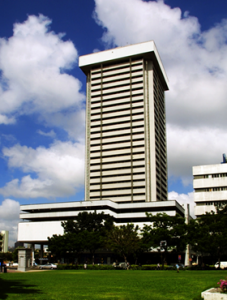 Performance improvement by Re-Skin